WPS Office
Free All-in-One Office Suite with PDF Editor
Edit Word, Excel, and PPT for FREE.
Read, edit, and convert PDFs with the powerful PDF toolkit.
Microsoft-like interface, easy to use.
Windows • MacOS • Linux • iOS • Android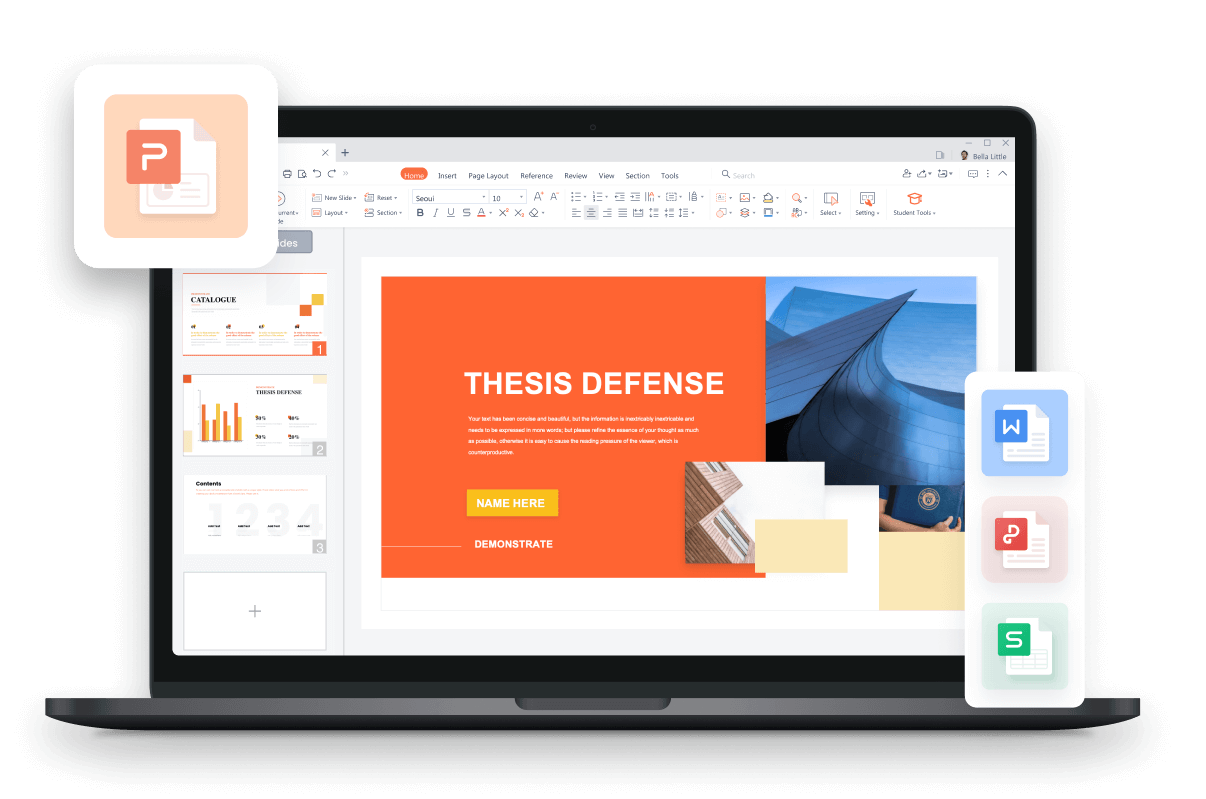 How to make ppt presentation on laptop in WPS Office
Making an attractive ppt is the essential skill at both workplace and campus. A presentation enables your ideas to become more convincing and outstanding. In today's tutorial, WPS Academy will introduce you to the must-have skills on how to make ppt presentation in WPS Office on laptop.
l
Tricks on how to make ppt presentation on laptop in WPS Office
Note: Please click the following links to watch the video tutorials in detail.
Ø
Shortcuts in making slides
First of all, here is a collection of the must-have shortcuts in making slides.
Enter / Enter + Shift = Insert a blank slide
Delete/Ctrl+Delete= Delete the current slide
Ctrl + the scroll wheel = Zoom in or out
Shift+ drag = Move the object horizontally ot vertically
Ctrl+Z= Undo the previous action
Ctrl+Y=Cancel the undo action.
Ø
T
he core component of a
P
P
T
:
Text
The text part is the core component of a ppt, whose cleanliness directly decides whether the audience could understand your points. Therefore, we need to align fonts properly.
Set font style in WPS Presentation.
Align fonts in WPS Presentation.
Ø
I
llustrate the information
of
P
PT
:
Shapes
Moreover, to visualize our slides, we can add some shapes to illustrate the information.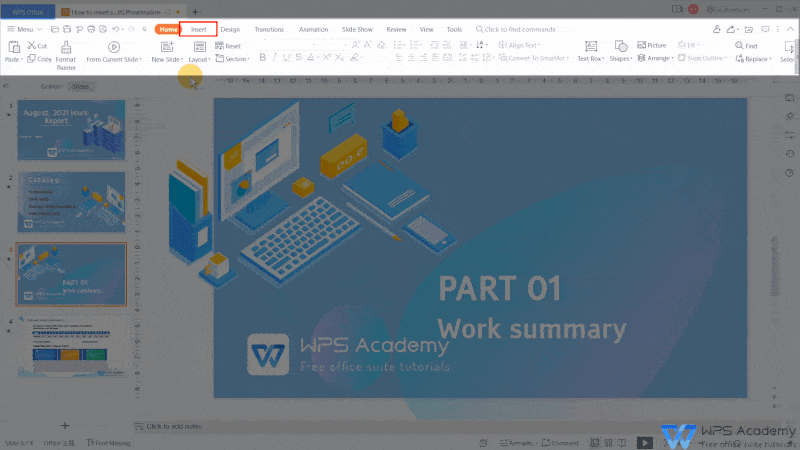 Click to check how to insert shapes in WPS Presentation.
Click to check how to set shape effects.
After this, it's necessary to align the shapes to make the layout clearer.
Click to check how to align shapes.
Ø
M
ake your slides dynamic and attrative
:
Animation
Animation also helps a lot to make your slides dynamic and attrative.
Click to check how to customize animations in a detailed way.
After setting a desired animation effect, you may find it troublesome to apply it to all the objects. Thus, we can use the Animation Painter in WPS Office.
Click to checkhow to copy animation effects.
Ø
B
eautify
the
slide
:
Icon
Besides, WPS Office also offers the Icon Library to beautify your slides.
The above is how to make ppt presentation on laptop in WPS Office. Additionally, WPS Official Academy offers more useful tutorials covering the usage tips of Excel, Word and PDF. Quickly jump to the official site for more free tutorials via the following links.
Learn pivot table from the beginning
Add footnotes to a word document
Convert pdf files into pictures
l
What is WPS Office?
WPS Office is a creditable and trustworthy office software launched by the Kingsoft team of China. As an all-in-one office suite, WPS Office is composed of four poweful modules, namely WPS Writer, Spreadsheet, Presentation and PDF, which are comparable to Microsoft Word, Excel, PowerPoint and Acrobat.
With WPS Office, you can cope with 46 types of files, including the commonly seen excel, ppt, word, and pdf. Free download WPS Office for more convenient office experience. Furthermore, we genuinely recommend you to visit the supporting study platform named WPS Academy to check more helpful and free tutorials designed for users ranging from beginners to pros.