WPS Office
Free All-in-One Office Suite with PDF Editor
Edit Word, Excel, and PPT for FREE.
Read, edit, and convert PDFs with the powerful PDF toolkit.
Microsoft-like interface, easy to use.
Windows • MacOS • Linux • iOS • Android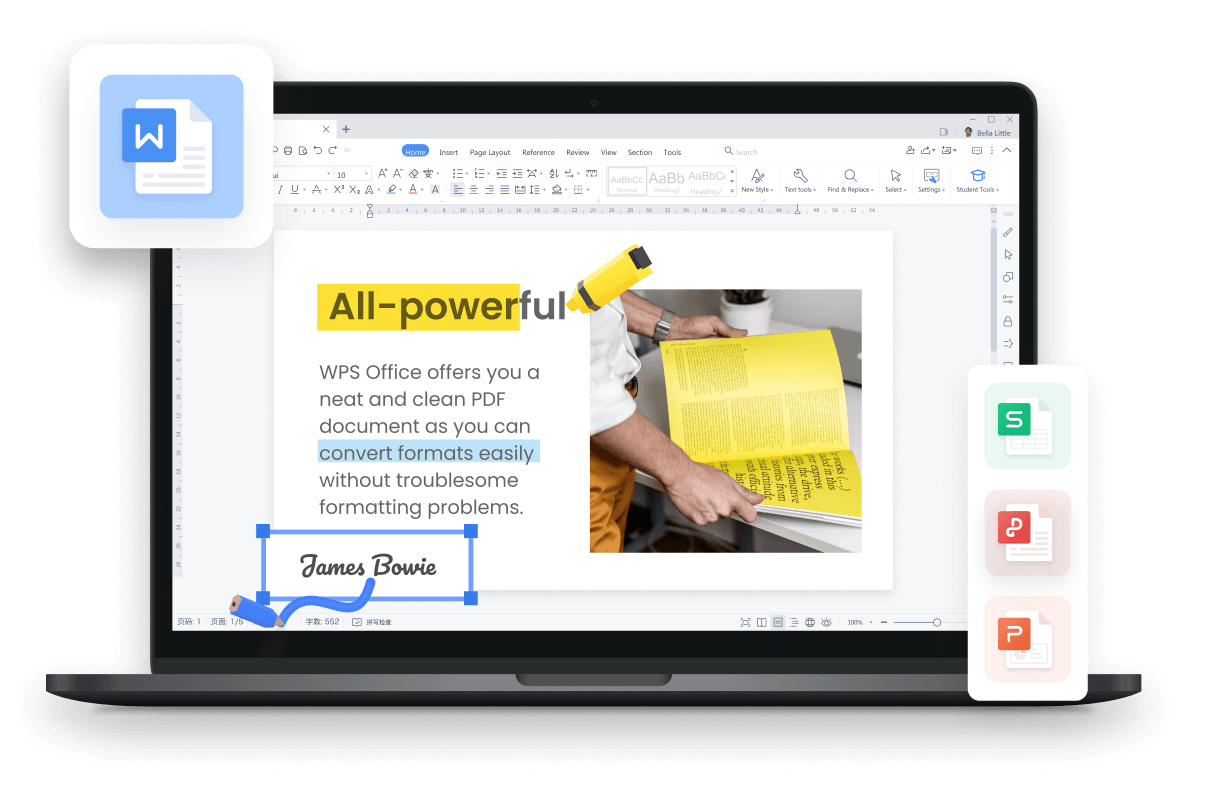 How to Split Pages in WPS Writer - A Step-By-Step Guide
In the world of digital documents, we all seek simplicity and efficiency. Are you contemplating the need to split pages and tidy up your files? This guide is here to lend a helping hand. We understand your need to organize content and cut down on time, and that's precisely what this step-by-step guide provides. With plain sailing instructions, you will master the art of splitting pages in WPS Writer and acquire control over your documents.
How to Split Pages in WPS Writer
Why Should You Split Pages in WPS Writer?
The significance of splitting pages in WPS Writer cannot be overstated. It transforms the way you present and organize your content. By dividing a page, you gain the power to direct the reader's focus to specific sections, emphasizing key information and enhancing comprehension. This is especially useful when you want to create visually appealing documents or handouts. The traditional, linear layout may not always serve your purpose, and that's where page splitting comes in.
Moreover, it's an eco-conscious choice, reducing paper usage by fitting more content on a single page when printing. This not only saves resources but also gives your documents a cleaner and more professional look. Whether you're working on reports, brochures, or any document where clarity and economy matter, splitting pages is a valuable tool. WPS Writer's user-friendly interface makes it easy to achieve this, offering you the perfect blend of efficiency and aesthetics. So, if you're looking to make your documents stand out and convey information more effectively, it's time to learn how to split pages in WPS Writer.
Steps to Split Pages in Half Vertically in WPS Writer
In this section, we will explore how to split pages in WPS Writer to cater to your individual requirements.
Step 1: Open the document you wish to split or click on the "View" tab.
Step 2: In the "View" tab ribbon, locate the "Split Window" option and click to access the dropdown menu.
Step 3: Simply select "Split Vertically" to divide the interface into two sections.
WPS Writer split vertically
Step 4: To exit the split-screen view, click on "Cancel Splitting".
WPS Writer cancel splitting
WPS Writer zoom options
We found WPS Writer to be a versatile tool, capable of accommodating various user requirements. The ability to split the document for formatting review is user-friendly. The best part is that WPS Writer offers these features entirely free of charge.
Steps to Split Text into Two Columns in WPS Writer (Expanded)
Here are the steps to split text into two columns in WPS Writer, similar to what you see in newspapers or comic books:
Step 1: Open your document in WPS Writer and navigate to the "Page Layout" tab.
WPS Writer page layout
Step 2: In the ribbon menu, click on "Columns" to access the dropdown menu, and then select "Two" to divide your pages into two columns.
WPS Writer split page into two columns
Step 3: To revert to a single-column page, simply click on "Columns" and choose "One" to return to a single column per page.
WPS Writer revert page to normal
These steps are easy to follow, with options readily available. WPS Writer stands out as one of the most user-friendly office suite applications for both use and navigation.
Why Choose WPS Office for Word Document Editing?
WPS Office is well-regarded for its exceptional Writer tool, often lauded for its robust capabilities. However, what truly sets it apart is its ability to deliver a complete office suite experience, much like Microsoft Office, all without any associated costs. In addition to its standout Writer tool, WPS Office also offers a powerful spreadsheet application akin to Microsoft Excel and a presentation software that mirrors the functionality of PowerPoint.
With seamless compatibility with Microsoft Office file formats, users can effortlessly work with their existing documents without any hiccups. The availability of cloud storage options ensures that your work is not tied to a single device, offering flexibility and accessibility across platforms.
Moreover, WPS Office's user-friendly interface caters to both novices and professionals, making it an ideal choice for those who require comprehensive office software without breaking the bank. Whether you're a student, professional, or anyone in between, WPS Office is a valuable tool for enhancing productivity and document management.
WPS Writer
How to download WPS Office for Free?
Step 1: Begin your journey with WPS Office by visiting their official website on your computer. Look for the inviting "Free Download" icon, conveniently located at either the center or the top right corner of the page.
WPS Office Download
Step 2: Navigate to your downloads folder, where you'll discover the intriguing "wps_wid.cid" setup file. Give it a click.
WPS Office installation file
Step 3: Now, it's time to provide your digital consent to the terms and conditions in the pop-up. Seal the deal with an "Install Now" click.
WPS Office Install now
Step 4: With the installation wrapping up, WPS Office will gracefully reveal itself, inviting you to immerse in its world of productivity and creativity.
WPS Office interface
FAQS
Q1. Will my formatting be preserved after splitting?
Your text's formatting will remain intact even after it's split. The original formatting, such as bold, italics, underlines, hyperlinks, text color, bullet points, numbered lists, and other elements, will be maintained in both sections. Hence, you can split your text without worries about losing its initial layout.
Q2. Can I split a document into more than two parts?
Yes, you can split a document into more than two parts using WPS Office. The software helps you to select different page layouts to divide your document into multiple sections. This feature comes in handy when you want to organize your material in a way that can be effortlessly navigated and comprehended.
Simplify Your Document Management with WPS Writer Page Splitting
Improve your document organization with this guide on how to add split pages in WPS Writer. Uncover the efficiency and simplicity you've been looking for while maintaining the original formatting. WPS Writer, a versatile and user-friendly tool, offers these features entirely free, making it your top choice. Ready to take control of your documents? Download WPS Writer now and experience a new era of office suite and productivity.